Types of Massage
Years ago I found myself looking at three words that I wanted to study: Education, Society, Environment (physical & spiritual). Through working in Mana Lomi (R) I have found all three large topics are entertwined; http://www.manalomi.com/mana-lomireg-defined.html.
There are a variety of different styles, types and techniques of massage utilized by massage therapists. I've provided a description of some of the more popular and well known types of massage being used today.

» Deep Tissue Massage $80
» Stone Massage $125
» Swedish Massage $70 or $105
> Anytime Anywhere Massage $15 min



>

On-Site

Wellness Programs Free
Deep Tissue Massage : Mana Lomi (R); Cost is $80/hr

Deep Tissue massage is designed to relieve severe tension in the muscle and the connective tissue or fascia. This type of massage focuses on the muscles located below the surface of the top muscles. Deep tissue massage is often recommended for individuals who experience consistent pain, are involved in heavy physical activity, such as athletes, and patients who have sustained physical injury. Deep tissue work varies greatly. What one calls deep tissue another will call light. When receiving deep tissue work it is important to communicate what you are feeling.[2]

Mana Lomi (R) Level three works with muscle, bone and energy in mind. The deep muscle access increases theraputic efficiency for specific issues; past injuries or long term.


Stone Massage; Cost is $125/90 min

A stone massage uses water-heated hot stones to apply pressure and heat to the body. Stones coated in oil can also be used by the therapist delivering various massaging strokes. The hot stones used are commonly river stones which over time, have become extremely polished and smooth. As the stones are worked over the body, they help to retain heat which then deeply penetrates into the muscles, releasing tension.[2]



Swedish Massage (Mana Lomi Levels 1 & 2); Cost is $70/hr or $105/ 90 min
Swedish massage uses five styles of long, flowing strokes to massage. The five basic strokes are effleurage (sliding or gliding), petrissage (kneading), tapotement (rhythmic tapping), friction (cross fiber) and vibration/shaking. Swedish massage has shown to be helpful in reducing pain, joint stiffness, and improving function in patients with osteoarthritis of the knee over a period of eight weeks. It has also been shown to be helpful in individuals with poor circulation. The development of Swedish massage is credited to Per Henrik Ling, though the Dutch practitioner Johan Georg Mezger adopted the French names to denote the basic strokes. The term "Swedish" massage is not really known in the country of Sweden, where it is called "classic massage".[2]
Mana Lomi (R) massage uses Hawaiian indigenous healing concepts which work with the body, mind and spirit. It is a precise, theraputic, clinically oriented, problem solving style of bone deep, loving touch, lomilomi strokes which can be used to prevent and resolve injuries as well as relieve stress and to help patients relax. This special lomilomi format addresses all body systems, particularly the muscular-skeletal and connective tissue systems, the circulatory systems, the nervous system and the respiratory and digestive systems. The healing style of massage also works with the effects of thought, feelings, and beliefs on our bodies
Anytime Anywhere Massage (Chair Massage); Cost is typically $1/min with $15 minimum
This massage is a non-traditional chair massage, done in ML (R) form, it can be done on a common kitchen chair or the floor. Session are typically 20 minutes and focus on back, neck, shoulders and arms. These are great for on-site wellness, group gatherings, and outtings. Also, chair massages are alternatives to when one needs a massage but doesn't have the time for a full routine.
On-Site Wellness Program; Cost at this time is free!
In collaboration with other local therapists, the Holistic Happiness On-site Wellness program is currently offering chair massages for employess, groups or outtings.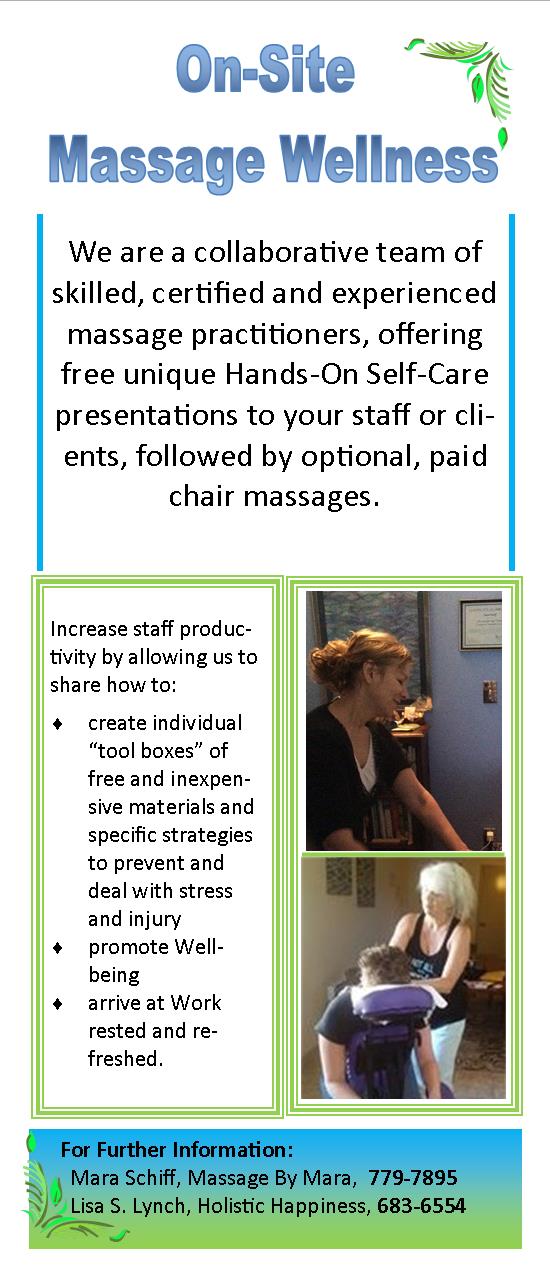 Such that a schedule can be set up and a large number of folks can feel the immediate benefit of massage. Perferrably done during the day, when a break is needed, and one can go back to their activity fully relaxed and recharged.
See also: Mara Schiff, CMT https://www.facebook.com/Rutlandinfo/?__nodl
[1] Content Copyright ProfessionalPlanets.com LLC dba MassagePlanet.com
[2] Content Obtained from Wikipedia.com.